Bento Box Picnic in the Park!
Today we decided to do something a little different and have a bento-style lunch at the park. I've had
these cute bento boxes for years. In high school my best friend introduced me to the wonders of real
Asian cuisine including the Japanese "bento box". The word bento literally translates to "lunch" or
lunchbox. There are hundreds of different styles and sizes for bento boxes ranging from $10 up to $80.
I only have two types: a traditional black lacquered box with a cloth tie and a pink layered box with
several 8 matching containers for sauces, condiments, or garnishes.
Lunch boxes in Japan are somewhat different from what you would find in the US. For a kid
growing up a standard lunch would be a turkey sandwich, crackers, an apple and maybe a cookie for
dessert. When I was a kid in school PB and J's were still allowed, but now with nut allergies rising, very
few schools have peanut butter products.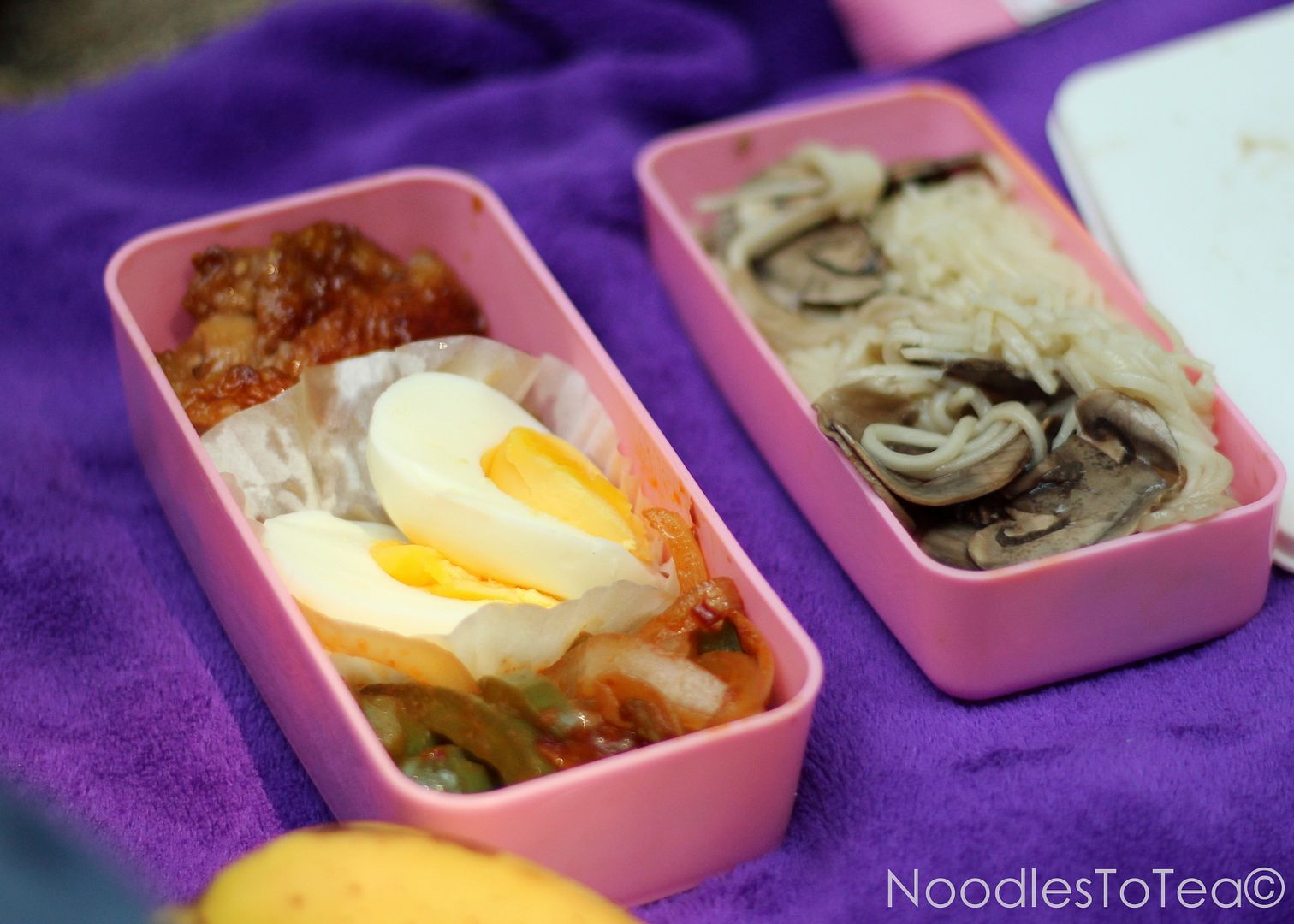 Getting back on topic! Lunch boxes in Japan are not only a source of sustenance, but also an art
form. You can buy a number of cutters and molds for certain foods and use the food to make designs,
pictures and sometimes messages with the meal. This style of creating pictures in the food is
called "oekakiben" or "picture bento". Kyaraben is another style of bento where the food is made to
resemble a character. The most common are characters from popular anime, pop culture, and video
games. A traditional bento will have three components: a starch (generally rice), a meat- fish, pork, and
tofu are most common, and then a vegetable which can be pickled, fresh or cooked. There are event
traditional pairings for bento such as Makunouchi which consists of fish, pickles, eggs and vegetables
along with rice and an umeboshi (pickled plum). Whether you choose to create your own flavor pairings
or a traditional style bento, the sky is the limit!
For our bento boxes I tried to get a balance of flavor with a few simple components: A spicy
pepper and onion stir-fry, cool cucumber twirls, sweet teriyaki chicken, and delicious mushroom
noodles. Here's the recipes I created for this bento:
Recipes:
Spicy Stir-Fry:
- ¼ cup green pepper, cut into strips
- ½ cup onion, cut into half-moons
- 2 tsp chili garlic sauce
- 1 tsp hoisin sauce
- 1 tsp sesame oil
Directions:
1. Heat the oil in a pan and add the peppers and onions. Fry on high heat for about 3 minutes, then
add the chili sauce and hoisin sauce. Cook slightly and then take off the heat.
Cucumber Twirls:
- 1 medium cucumber
- 3 Tbl cream cheese, softened
- ½ tsp sugar
Directions:
1. Mix the sugar and cream cheese together.
2. Slice the cucumber lengthwise on a mandolin. Slice just to the seeds.
3. Lay the slices out and place a paper towel over them to remove the excess water.
4. Spread a small amount of the cream cheese over the cucumber, just enough to coat the surface.
5. Roll the cucumber slices up and serve.
Teriyaki Chicken:
- 1 chicken thigh, de-boned, skin-on
- ¼ cup teriyaki sauce
- 1 Tbl soy sauce (or more to taste)
- 2 Tbl honey
Directions:
1. Heat up a small pan on medium-high. Place the chicken in, skin side down and cook until the
skin is golden brown. Flip and cook until browned. Add in the teriyaki, soy sauce, and honey.
Reduce heat to medium and cook a few minutes on both sides to glaze.
2. Take off the heat, cool, and slice into strips. Discard the pan sauce.
Mushroom Noodles:
- ½ pack of noodles, with soup base and chili oil
- 2 small mushrooms, sliced thin
Directions:
1. Cook noodles in boiling water. Drain and rinse. Add in the soup base, chili oil, and mushrooms.
2. Mix in and serve.
Sichuan Mushroom Noodle Review:
There are so many different noodles on the market, and this will NOT be the only one we review!
This particular type of noodle is similar to what you would find in the ramen/instant noodle aisle. The
pack comes with two bundles of noodles, two mushroom soup bases, and two chili oil packets. What's
interesting about the packaging is that there are three languages on it: Chinese, English, AND French. I
researched the brand and it has been a major noodle distributor from Hong Kong to all parts of the
globe!
the noodle to soft, adding in the soup base and then adding in your favorite accompaniments. We
decided to intensify the flavor by straining the liquid before adding the soup base. I loved the taste of
the noodles! I'm a big mushroom fan and the taste of these noodles is much better than what get out of
a ramen packet. Not only that, but the company had a number of different flavors including beef,
chicken, abalone, and a seafood blend. For only $1 we added a great component to our bento lunch!
Hope you enjoy!
Ms. Noodles
P.S. Mr. Tea LOVED this Bento and I would say make one!